42° 26' 16" N
71° 13' 06" W
Learn more about Lat/Long
Members of the EarthView team and other
Bridgewater State University Geographers
are looking forward to a visit to the Armenian Sisters' Academy in Lexington on November 15. Our visit is on the anniversary of several interesting geographic events, which are listed at the end of this post.
The school was founded by Sister Alphonsa Bedrosian, beginning as a much smaller institution in Watertown and expanded on its current campus in 1982. The school serves both Armenian and non-Armenian children through middle school, with an emphasis on Armenian history and culture. The Armenian Sisters of the Immaculate Conception operate the academy in Lexington as well as two others in the United States -- in Philadelphia and Los Angeles -- as well as others throughout the world.
View Larger Map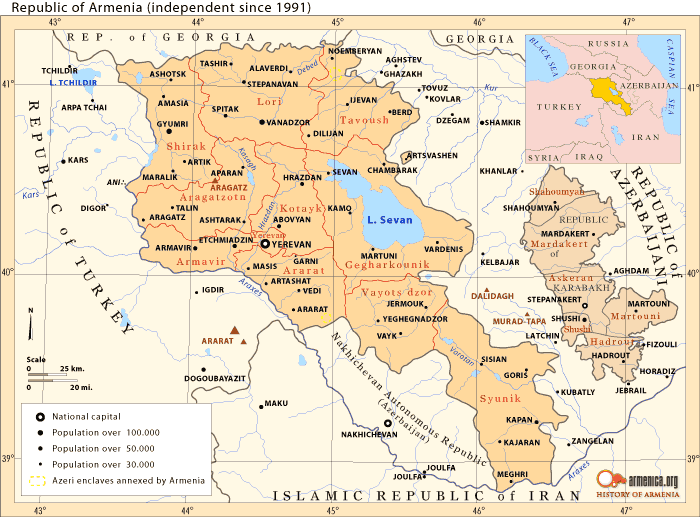 Armenia is a small country located in the center of the
Caucasus region
of southeastern Europe. Many Armenian Americans live in the greater Boston area. See the
Armenia maps
at the
Perry-Castañeda
Library Map Collection for more maps Armenia and the surrounding region, reflecting boundaries recognized by the United States. Also see the fascinating and complete collection of maps at
Armenica.org
. We are using maps from both collections in a special slide show for students at the Academy.
The EarthView visit takes place on the anniversary of several significant geographic milestones.
November 15, 1990
President Bush signed the
Clean Air Act Amendments of 1990
, making the 1970 law stronger
November 15, 1806
Explorer Zebulon Pike sighted
Pikes Peak
, in Colorado, which was later named in his honor.
Image: Pikes Peak Radio & Electronics Museum
November 15, 1763
Almost a century before the U.S. Civil War, Charles Mason and Jeremiah Dixon began surveying
Mason-Dixon Line
between Pennsylvania and Maryland.